Distributed Antenna Systems (DAS) are a network of antennas used to enhance wireless network coverage. A better question than the one above may be, "Where are distributed antenna systems not used?" The more you look into these amazing systems, the more you realize just how prevalent they are in today's cellular infrastructure.
Apartments & Multi-Use Facilities
In buildings meant to be occupied by dozens, if not hundreds, of occupants at the same time, a DAS is practically a necessity. Apartments, hotels, convention centers, sports stadiums, and other multi-use facilities are a hotbed of wireless activity, so the infrastructure needs to be able to handle it. These facilities are often build from metal and concrete, which can block coverage, making a DAS even more helpful.
Offices & Commercial Spaces
Modern office buildings and commercial facilities may be impressive feats of engineering, but they frequently present issues when the people who work in them need to connect to cell phone towers. For this reason, offices & commercial spaces are prime candidates for DAS. Losing a client to a competitor is one thing, but losing a client to poor cell phone coverage is frustrating and avoidable. This is why it's vital that commercial buildings are equipped with DAS technology.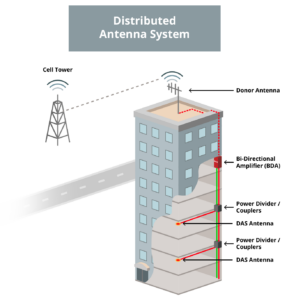 Schools, Colleges, and Universities
K12 schools and institutions of higher education need DAS as much or more than any of the other types of buildings listed so far. Between administration, teaching, and occupant safety, the need for reliable cell phone and radio coverage is paramount in schools. In schools, special emergency responder radio communications systems (ERRCS) are often installed, which ensure first responders and school resource officers are always able to communicate via radio from any point on campus.
Hospitals & Healthcare Facilities
Hospitals and other healthcare facilities are receiving and transmitting data at all times, making the need for DAS extremely evident. "Dead spots" in medical facilities can lead to crucial updates being missed, or emergency responders being slowed down by a loss of signal. In order for doctors, nurses, technicians, and administrators to do their jobs and keep patients healthy, cellular service needs to be up to par.
As you can see, distributed antenna systems can be helpful (and are often necessary) in almost any type of building. From offices to hospitals, DAS improves quality of life and safety across the board.
---
Learn More
To learn more about the equipment used in distributed antenna systems (DAS) and some best practices for building safety, check out The Safe Inside Podcast, from the Safer Buildings Coalition.
Harris Communications is a proud member of the Safer Buildings Coalition!
About Harris Communications
Harris Communications is a national company based out of Charlotte, NC that specializes in wireless in-building cellular signal enhancement and wireless solutions for commercial applications. We have over 20 years of experience and have implemented wireless enhancement solutions in facilities throughout the United States. Our repeater solutions are custom-designed to suit the needs of each individual application, using FCC-licensed amplifiers. They are compatible with all public safety frequencies and all cellular service providers.
Now that you know there's hope to improve cellular coverage in-building, it's time to do something about it. At Harris Communications, we can solve all types of data reach problems. If you want to work with the best distributed antenna system team in the business, schedule a call with us to get the ball rolling.