Sometimes, you're in an area where you'd expect to have cellular service, but when you check your cell phone, you have no bars. This may have been when driving through a busy area, attending a large concert or sporting event, or working in a sprawling office complex. We've all been victims of cellular dead zones, but what are they and what causes them?
Cellular dead zones occur when the signal from a cellular tower can't reach your device. Various factors can contribute to dead zones: too much distance from the nearest cell tower, too many people trying to get signal from the same tower, or obstructions blocking cell signal. If you live in a high-density area, you could regularly experience cellular dead zones due to the number of people using cellular devices and the buildings obstructing signal. If you live in a rural area, you may be too far from the nearest cell tower to receive optimal signal.
Solutions to Cellular Dead Zones
So how can you get around dead zones? Unfortunately, public cellular infrastructure has not reached a point where dead zones can be eliminated altogether. However, if you manage a commercial or residential building or school campus, there are things that can be done to fix cellular dead zones on your property. A distributed antenna system (DAS) is the most effective way to remove or prevent dead zones.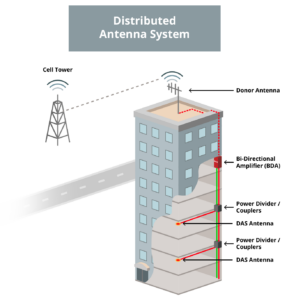 A DAS is a system of antennas that take the signal from a cellular tower and amplify it throughout a particular area to boost coverage. This can make living or working in a building much more comfortable, but it can also make it safer. Dead zones can hamper communication between first responders when they arrive on the scene of an emergency. This can slow them down and endanger lives. An emergency responder radio communication system (ERRCS) is a type of DAS that ensures first responders are able to communicate without interruption.
---
Learn More
To learn more about the equipment used in distributed antenna systems (DAS) and some best practices for building safety, check out The Safe Inside Podcast, from the Safer Buildings Coalition.
Harris Communications is a proud member of the Safer Buildings Coalition!
About Harris Communications
Harris Communications is a national company based out of Charlotte, NC that specializes in wireless in-building cellular signal enhancement and wireless solutions for commercial applications. We have over 20 years of experience and have implemented wireless enhancement solutions in facilities throughout the United States. Our repeater solutions are custom-designed to suit the needs of each individual application, using FCC-licensed amplifiers. They are compatible with all public safety frequencies and all cellular service providers.
Now that you know there's hope to improve cellular coverage in-building, it's time to do something about it. At Harris Communications, we can solve all types of data reach problems. If you want to work with the best distributed antenna system team in the business, schedule a call with us to get the ball rolling.